---
rank:
Innocent Bystander
score:
10
OK, so I'm starting actual work on this project. If you don't know what I mean check out this thread and (hopefully) it will make sense.
I'm still undecided on whether to attempt to use mostly the "actual" skyline (my original intent) or use the Dystopian City Blocks to create a "representational" skyline (probably MUCH easier); this means I'm still soliciting opinions on which way to go (hint hint).
I knew upfront that I'd need to create a custom model for the Renraku Arcology whichever option I chose, so I figured I might as well start with that. I started by modeling the basic shape in Sketchup. I used the basic dimensions of 700m x 700m x 960m - yes, I know those aren't entirely accurate but they are close and those dimensions are MUCH easier to work with. Besides, the difference from the original will hardly be noticeable in context of the final scene.
Next, I created a VERY preliminary texture (all four sides are the same) in Photoshop. I create some semi random patterns of "lighted" windows. They ended up looking more tiled than they actually are but this is just a first run and I'll continue to modify until I get satisfactory results. Also, the color-scheme of the border lights, logo on the side and corner triangles was chosen because it says somewhere (Renraku Arcology: Shutdown, I believe) that the building appears silvery-green. I'm not sure how I'd go about texturing that with satisfactory results, not mention that in all of the illustrations I've seen, the structure appears mostly black. Anyway, I decided that making the architectural lighting a neon green would be a reasonable compromise.
Finally I imported it into DAZ|Studio and did some additional tweaking (primarily a bit of Displacement Mapping). Then I created a basic animation of the structure rotating with a light on it so you could see it in 3D context and rendered it. I've included a link to the video clip and below is a link to a static render that shows the 3D effect of the Displacement Mapping on the architectural lighting (click on the thumbnail to go to a larger version). Keep it mind, this is a VERY basic first step; it's NOWHERE near finished. However, I am interested in any thoughts or feedback anyone might have.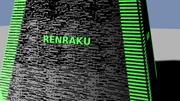 -HabitualGypsy
---